Applications
 tab:
When you first go to the
Applications
tab, it will be empty. There will be a message saying you will need to create an application group before you can create an application (click for larger view):
Creating a new App Scope Group
Click on the
Application Groups
tab and give your new group a name, an optional description, and a
Sort Order
with a value of 5000 or higher. Click
Save
.
Now click on the
Applications
tab and click on the
Add Application
 button.
Add a title and description, and select the app scope group you created earlier.
Once you click
Save
, a script tag will be generated. Click the file icon to save it to your clipboard.
Next, open the application where you would like to add VisualSP and paste the script tag into the header.
Creating Help Items for your new App Scope
Once the tab appears, click the tab to extend the help panel and
Enable Editing
from the hamburger menu. Click
Add Help Item
. In the Help item editor window, click the
App Scope
drop down and select the new app scope you just created.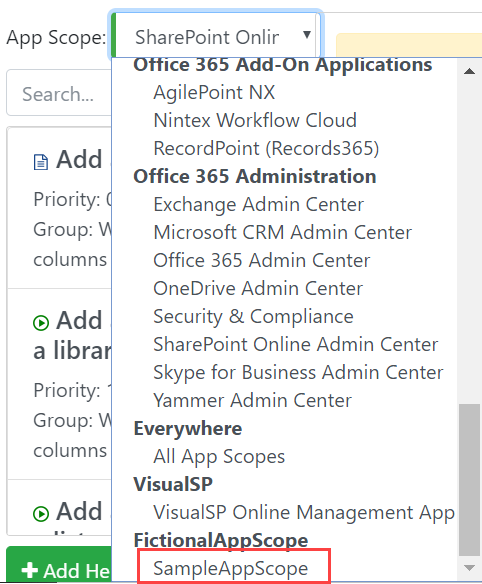 Create your custom help item as you normally would. When saved, the help item will appear in the new application.

VSP anywhere.

anywhere everywhere

You can use the VisualSP application on any web-based platform and create your own custom help items that will display in that application. If you click on the Manage Subscription link from the VisualSP admin menu in the help panel, subscription administrators will see an